For A Dummy's Sake
Die private Homepage von Johannes Teveßen
These pages have not been designed by Christian Rückert or Sabine Ohnacker.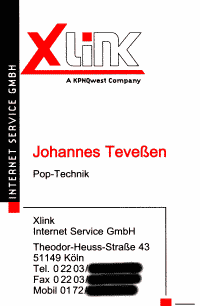 Notes
Note: If your browser underlines some words like THIS, then it supports the HTML <acronym> tag. However, this has nothing to do with Microsoft's recent "technology" called SmartTags.
dummy.de
Ummh.. Africa... (A page created by my friend Martin who lives in Cotonou, Benin)
Songs
Misc
Mein 64'er-Diplom 2 (April 1991)
mozilla-athlon-pc-linux-gnu-20010704.tar.gz
DeCSS
Here you can download DeCSS:
DVD software?
Validated
Me in Rome
This is the end of the page. See above for more.